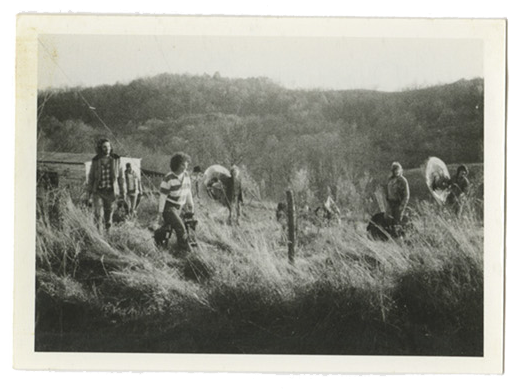 The front and back of a SuBAMUH photograph. The back reads "Discovery Day, 9/79. Guests bringing up scrap metal from barn survey. Sounded like a marching parade!" Photograph: SuBAMUH archives.
Jan and Mary met in a women's liberation group in Dayton, Ohio, in 1969. When they began their intentional community adventure in 1979 on 157 acres of land in the foothills of Athens, Ohio, feminist groups were an important part of a changing American culture and a challenge to the prevalent patriarchy. SuBAMUH was based on the principles of what Jan calls "the F-word: feminism." To sustain the community, a collective leadership module was used. The structure was a non-profit corporation with communal governing measures. The seven adult women members had bi-weekly meetings to sort out tasks and allocate responsibilities since they had to maintain the SuBAMUH estate by themselves.
In SuBAMUH's prime years, it provided residencies for many women, feminist-centered education, and lively gatherings, as well as scenic camping grounds, retreats, and an emotional safe space for women around the country.
"Our goal was a women-only space to have a safe space, safe rural space where women could live, and come and visit," Griesinger said.
Listen to how feminism regulated power dynamics in SuBAMUH.